Copyright 2001 - Present by John Snyder
NOTE: The story is set in Chicago and Baltimore in 1944 with flashbacks backs to the 1920s and 1930s.

Sometimes the road to redemption and forgiveness can be a rocky one. Thatís what Jacob McCallum discovered on his arduous journey. At one time, Jacob had it all; wealth, a wonderful family and he was one of the most respected businessmen in Chicago. Then he made some bad decisions and all that changed. For the past twenty years he has been in an alcohol induced haze, riddled with guilt for the dreadful things he has done to his family and his role in the untimely death of his wife. Estranged from his family and penniless, he has been living in jails, on the street and jumping freight trains for transportation. Realizing he is on the downhill side of life, Jacob embarks on a journey to find his children, seek their forgiveness and reunite with them. Befriended by a pastor at a Salvation Army mission, he struggles to transform his life, finally overcoming his demons, but not without a fair number of setbacks. Jacob becomes a Salvation Army Bell Ringer at Christmastime. While ringing his bell on a street corner he meets a young girl who, through a series of strange coincidences, leads him back to his family and facilitates his forgiveness just in time for Christmas
.
Jacob's Bell - A Christmas Story
The story of how an unlikely friendship between an old man and a little girl saves a family.
Jacob's Bell - A Christmas Story
Published by Hachette Book Group
(Hardcover)
Jacob's Bell
A Christmas Story
The story of how an unlikely friendship between an old man and a little girl saves a family.

Jacob's Bell
A Christmas Story
will be released October 2, 2018!
"Jacobís Bell by John Snyder is a splendid achievement and 'rings' with many truths. Snyder cares about his characters and makes us come to care as well. He gives us Jacob McCallum, a man who had it all until his addiction to alcohol took everything away and he lost his fortune, his family and his way in life. Snyder writes with simplicity and depth about the harshness and vagaries that life can bring but also about its beauty. He shows a reverence for the past and memories that may be from years ago but which are given as fresh and as near as this minute. His prose resounds with a love of people and the world and is grounded in the particulars of our America - its cities and byways, its taverns and highways. Jacobís Bell is a book that has, in my judgment, exceptional merit. It registers the redemptive power of forgiveness and love and I highly recommend it.

- Brian Avery, Film Producer, Yari Film Group - Los Angeles, CA


ďJacobís Bell takes readers on a journey of success & failure, love & hate, bitterness & repentance. This tale promises to become a Christmas classic that transports each of us to many familiar and unfamiliar places all the while calling us to a place of forgiveness and restoration. Jacobís Bell is a gift that reminds us of the TRUE meaning of Christmas and the forgiveness that comes when we trust in Godís indescribable giftÖhis Son Jesus. Jacobís Bell will hold a special place in our family library and Christmas tradition!Ē

- Jeff Sheets, Former President, Echolight Movie Studios - Nashville, TN

ďI was so moved by John Snyderís latest book, Jacobís Bell. It reminded me of Godís blessings in our lives and how there is nothing more important than generosity, family, faith and forgiveness. With these things, the impossible becomes possible. John has reminded us why Christmas is so special, and I am truly blessed to have read this remarkable story. Amen.Ē

- Dan Angel, Film Producer & President of Fezziwig Film Studios - Los Angeles, CA


"What a wonderful Christmas story!! This book is absolutely amazing. I have never had a book touch me like this one did, if we could only see things through the eyes of a child. A wonderful story about overcoming your past and seeking forgiveness from those who you hurt with God's help. I recommend you have a tissue handy when reading this book. This book deserves a lot more than 5 stars. I honestly think Jacob's Bell will be a new Christmas classic."

- Ann Ferri, Online Review (5-Stars)


"Such a wonderful book! This story caught me from the beginning. A story of love and forgiveness, a life changing read. I cried while reading this story, so much hurt and wasted time. I love that it is a Christmas book because that is the day of true miracles, the birth of Christ. This story portrayed that in every page, I see homeless people through new eyes, they have stories of hurt and loss. We need to love and help them as the characters did in this book. You will definitely want to read this book, so much depth and emotion in every page. Perfect for the reflection of the true meaning of Christmas!"

- Shonda, Online Review (5-Stars)


"I wish I could give this book 10 stars! Not until I was done with this book did I realize the author of this book is also the author of The Golden Ring, another absolutely amazing book! This book brought me to tears and has an incredibly important lesson in it we should all take away from it. When Jacob is a young man he is full of life and goes into business half and half with his friend. The business is wildly successful and Jacob is living the high life. He marries and starts a family with his beautiful young wife. His success is stressful to him, always being on is not easy to accomplish. The majority of the book takes place with the repercussions of his not being able to handle the stress of his success and what happens next. His wife threatens to leave him if he can't get his act together and in a desperate attempt to do so he is successful for a short amount of time before he backslides again. Achingly heartbreaking life lesson, don't delay in telling those you love that you do and forgive before there is no longer a chance to do so. Excellent book which I can't recommend highly enough. This should be read every Christmas time just as a reminder!"

- Deanne Patterson, Online Review (5-Stars)


FOR A SAMPLING OF MORE REVIEWS CLICK HERE.
In Praise of Jacob's Bell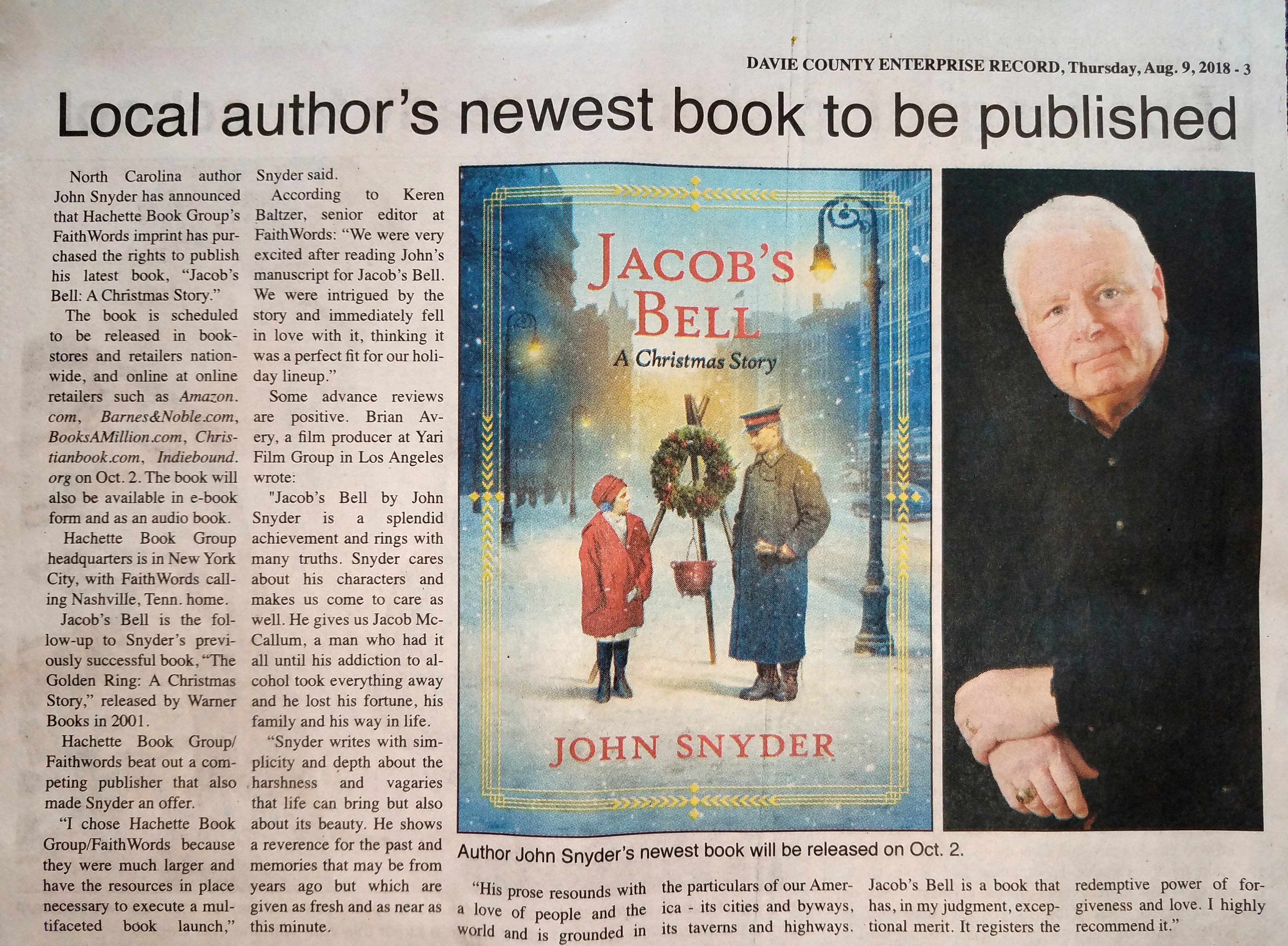 A Sample of Some Publicity I Arranged for Jacob's Bell ...
Yadkin Valley Magazine - Triad North Carolina Area
December 2018
American Family Association Journal - National
December 2018 Issue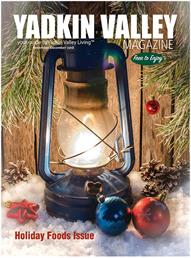 Live Interview on WXII-TV 12 (NBC)
Winston-Salem/Greensboro, North Carolina Area
November 21, 2018


Friday, December 14, 2018
Jacob's Bell: A Christmas Story is the second Christmas story written by Cumberland native, John Snyder.
MOCKSVILLE, N.C. - Cumberland native John Snyder's recently released his latest book, "Jacob's Bell: A Christmas Story."

The book is the follow-up to Snyder's "The Golden Ring: A Christmas Story," which was released by Warner Books in 2001.

In "Jacob's Bell," Snyder returns to a historic Americana setting in the 1920s and '40s. Set in Chicago and Baltimore in 1944 with flashbacks to the 1920s, Jacob's Bell follows Jacob McCallum on his arduous journey to redemption.

Snyder graduated from Allegany High School and the University of Maryland at College Park. He made his home near Annapolis before moving to North Carolina in 2004.

Snyder founded The Snyder Group Inc., a public relations firm that developed and implemented national award-winning marketing campaigns for regional and national corporations.

"Jacob's Bell" was published by Hachette Book Group's FaithWords imprint and is available from bookstores and retailers nationwide and online at retailers such as Amazon.com, Barnes&Noble.com, BooksAMillion.com, Christianbook.com and Indiebound.org.

Winston-Salem, NC

December 23,2018
Allegany Magazine
Cumberland, MD - December 2018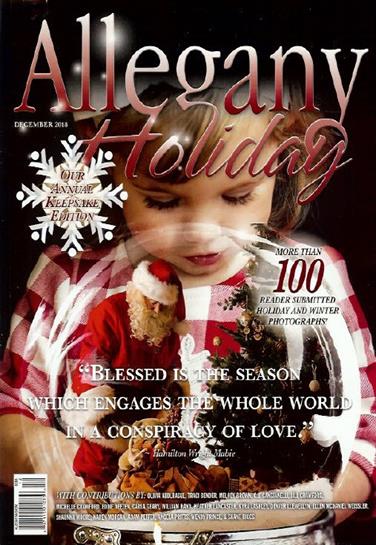 Radio Interviews
WCBC-AM Radio (Cumberland, MD) taped an interview on November 13, 2018 and parts of it were aired on the station throughout the holidays.
American Family Association Journal - National
December 2018 Issue
Davie County Enterprise - Mocksville, NC
August 9, 2018
Moments With Marianne ... A one hour nationally syndicated radio program on iHeart Radio hosted by Marianne Pestana. Program was taped on November 1, 2019 and will air on Sunday, December 1, 2019 at 8PM Eastern Time and 5PM Pacific Time.
Winston-Salem Magazine - Winston-Salem, NC
O. Henry Magazine - Greensboro, NC
December 2018 Issue
Davie Life Magazine - Advance, NC
December 2018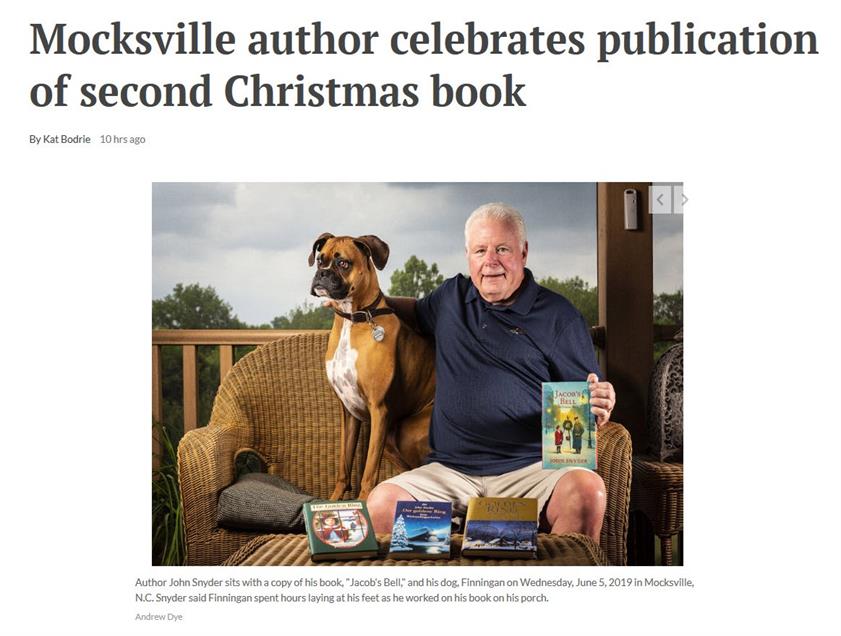 To View Full Article - CLICK HERE
Life: Beautiful Magazine - National
December 2018

Carolina Country Magazine - Statewide North Carolina
December 2019
Faith & Friends Magazine - National Magazine for Canadian Salvation Army
December 2020